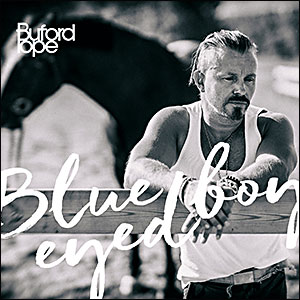 On the opening track of the new album "Blue Eyed Boy", a wistful Buford Pope sings that he's 'Still Got Dreams'. But far from having his head in the clouds, he's crafted his most down to earth album yet.
On 6 full length albums, Sweden's Buford Pope has drifted easily across the american soundscape, moving freely from folk rich country to gritty rock'n'roll. Yet never has it sounded as effortless, or as honest, as on his 7th album. On "Blue Eyed Boy", there's no doubt that it's Buford Pope himself we're hearing.
"I'll soon be 46, but in many ways I am still that blue eyed boy", he says. "No matter how much I've seen of the world, a big part of me still looks at it with innocence".
That innocence is tangible in the album's approach. Nothing here is calculated or overwrought. On the contrary, Buford Pope's words and music show a profound openness to the human condition.
"These are songs I've carried with me for a long time, some of them for ten years or more", he explains. "They've grown from my own experience and the people who've touched me, which is why I couldn't leave them to chance".
True to his word, Buford Pope devoted himself to the album's planning. Every aspect was selected with care, from the vintage mikes and converted barn studio, to the diverse artists, Swedish, Irish and American, among them Tobias Fröberg, Merit Hemmingson and Christian Kjellvander, who would support him. Yet, when the time came, it all came together at once.
"What you hear is a frozen moment", he says. "We laid it all down in one take, with no cuts, no loops, no tweaks. It's as raw as it gets".
And perhaps that rawness is what gives "Blue Eyed Boy" so much of its flavor. For all the speed of its recording, this is an album to digest slowly.