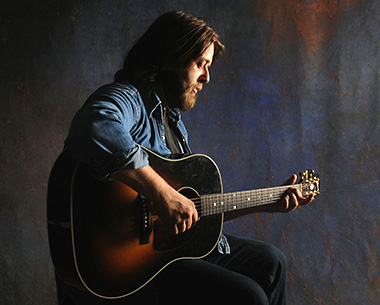 With his 2011 label debut hailed by No Depression as "perfect" and by American Songwriter as "brilliant", singer-songwriter-rock 'n' roll musician Brian Wright will unveil his new album, the highly anticipated, "Rattle Their Chains", on September 10th, 2013. The Waco, Texas, native and new Nashville resident will release his diverse new collection of plaintive ballads and rootsy rockers on Sugar Hill Records, which also released his last project, the wildly acclaimed "House On Fire".
Imagine diving after a pearl of great price, only to find that it rests within a dense shell you must crack open with two opposing attempts: one about strength, the other surrender.
That's how it went down for Brian Wright as he labored to land his gem, the new album "Rattle Their Chains". That's not to say he started on the wrong foot: far from it. For the recording of "Rattle Their Chains", he convened last summer in a Los Angeles studio, surrounded by a trusted core of musicians. Wright brandished 18 songs, demoed and arranged meticulously so the band could follow his lead. But Wright wasn't ready to call it a wrap with the resulting recordings.
"I didn't like the songs once I heard them, so I scrapped all but three or four", Wright says. "It had hooks and melodies but it was empty. It didn't feel or sound right at all".
So for dive two, Wright retreated – literally. He headed north to coastal Oregon to hole up in a friend's hotel just a few weeks shy of Christmas. Once there, Wright followed the same ritual for a week: breakfasts fueled by coffee and eggs sunny-side up; long beach walks listening to Bob Dylan's 'Basement Tapes'; hunkering down with his Gibson J-45, letting lyrics and melodies surface.
Then there was the vision: "I was picturing a band playing these songs – my friends – and I could hear what was going to happen: a band in a room, guys who really love each other and are really tight".
Back in L.A. for take two – with a dozen new songs to learn on the spot – Wright and his buddies nailed it. He sought the spontaneity of live show, a roots-rock hoot to smolder and sting, and he got it. But the resulting album also reflects something more: a shadow-meets-light intensity where regret and hope square off.
Take "Weird Winter," a mournful minor-key masterwork that blends images of transition, desperation and grief in best Guy Clark fashion – rich and evocative, yet leaving enough space for the listener to fill in the blanks with their own backstory.
The songs on "Rattle Their Chains" are personal, but they also invite the listener to settle into them with ease and familiarity.
Besides Dylan and the Band, Wright also found himself drawn to "the storytelling of Texas songwriters. I find myself really into Townes Van Zandt; he had so many beautiful songs. Woody Guthrie lived there, and there's something in the water in Texas. It's where all these great stories come from. But I'm also influenced by great rock and roll: Beatles, Rolling Stones and things like that".
Wright's rock savvy is apparent on the sonic juggernaut "Hear What I Want." With echo-laden piano, slide guitar and churning drums, the song yields a neo-psychedelic vision of a relationship where what goes in one ear comes out the other.
"This record was completely different from "House On Fire", where I played most of the instruments myself, with a producer. I just wanted to hole up and make an album by myself. But this new record was just the opposite; I was in a really good place, playing bar gigs with my friends, and that's what I wanted this record to sound like. And when we come together, it's a sound like no other".
That resulting sound is "Rattle Their Chains". Albums created with such abandon and persistence are uncommon, and Wright's pursuit of his art is itself a rare thing. That it yielded music so brilliant makes it all the more remarkable.