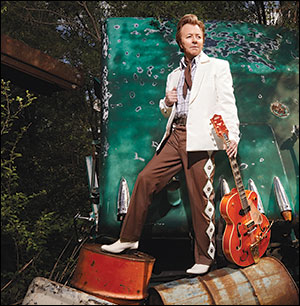 Iconic guitarist, songwriter and vocalist Brian Setzer will release "Rockabilly Riot! All Original!", a straight-ahead rockabilly album from start to finish, via Surfdog/Membran/Naxos on August 19th, 2014. The new album, featuring the high-octane first single "Let's Shake", marks Setzer's first studio album since 2011's Grammy Award-nominated album, "Setzer Goes Instru-Mental!".
The new album thrillingly comes alive with 12 new and original songs in pure rockabilly fashion. Setzer brings his trademark twang and fretboard fire, and he's backed by three musicians that he says "are the best in their craft"; Mark Winchester (bass), Kevin McKendree (piano) and Noah Levy (drums). Recorded in Nashville, the album was produced by Peter Collins (who's handled the same honors for Setzer's albums "Vavoom!" and "The Dirty Boogie".
"It's funny how English people seem to have a more sensibility about what rockabilly music is, even though it was invented in the South", says Setzer. "They seem to know what it should sound like. Peter Collins is experienced and an accomplished producer, he's done a lot of records, but he loves rockabilly music and he knows what it should sound like".
As Setzer explains, "I think this album sounds to me a little bit like the first Stray Cats record… it's rockabilly songs. It's not just blues songs in the rockabilly style. People like to call it 'neo-billy' I suppose, which is some invented word that somebody came up with, but if that's the word they want to use, I'd like to go with that because it sounds to me like it's very modern and fresh sounding rockabilly."