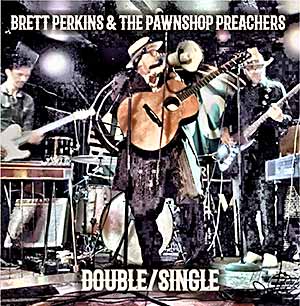 Brett Perkins & The Pawnshop Preachers "Double/Single" delivers a double dose of high energy americana.
"You can take the american out of the United States, but you can't take the United States out of the americans. Thus, Brett Perkins still sounds to an extent that he is a child of Buddy Holly, Carl Perkins, Fats Domino and not least Hank Williams."
So wrote Danish reviewer Henning Hoeg in his 5 star recommendation of The Pawnshop Preachers 2017 release.
The Preachers new "Double/Single" will no doubt add Cab Calloway and Jerry Lee Lewis to the bands musical heritage, from the distinct swing sound of 'Everything's Turnin' Around', to the straight ahead, piano pounding rock'n'roll of 'Yes, Yes, Yes (Honey, Take Off That Dress)'.
The band is releasing the 2 tracks in advance of a new full length album planned for a spring 2019 release.