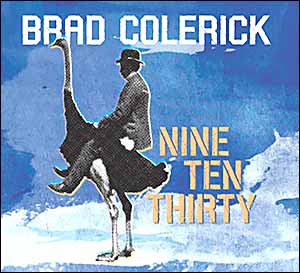 Shop Local. It's a phrase often espoused by chambers of commerce and city officials in support of community businesses. South Pasadena, California, singer songwriter Brad Colerick took it to heart for his latest album, "Nine Ten Thirty". The album title is the postal code of the town of 25,000. The CD was a musical barn raising made entirely by Colerick and some very talented neighbors. "I wanted to showcase the great talent I'm surrounded by in this town", said Colerick, "South Pasadena is a hotbed of wonderfully creative people. And the community really supports the arts".
Colerick awakened the sleepy town of South Pasadena in 2009 when he launched a weekly Wednesday night acoustic music series called Wine & Song. After playing the legendary Bluebird Cafe in Nashville, he decided to pattern the series after the impromptu nights that occur there. Held in the Blue Guitar room at Arroyo Seco Golf Course, Colerick hosts 2 Americana artists each week along with special guests. "I love these Wednesday gatherings", explained Colerick. "Every show is unique and inspiring. We get a steady stream of outstanding artists touring through town who have heard about the great scene and receptive audiences here in the arroyo. It's also a great place for me to test drive new songs".
Sounds of the wild, red crowned Amazon parrots that thrive in South Pasadena accompany the title cut which features keyboard work by Grammy Award winning pianist, Billy Childs. Billy's son, singer songwriter Aaron Childs, makes a cameo on "Millard Stream", a story that takes place near the neighborhood where Childs grew up. "Bachelorette Party" is about an encounter on an early morning flight amidst a group of young, Vegas bound revelers, and the joy of embracing life's unexpected moments. The sole cover song is a revamp of the Bobby Troup standard, "Route 66". The celebrated roadway ran through the middle of South Pasadena, and brought tourists from far away to see the famed Cawston Ostrich Farm.
Other locals who contributed to the project include David Plenn, Tim Fleming, Dave Tull, Luke Halpin, Sally Dworsky, and Guillermo Guzman, who co-produced the record with Colerick. The CD was recorded at Colerick's studio, DeepMix, which sits in the shadow of the iconic Rialto Theatre in the heart of the 91030 zip code. A CD launch concert will be held Saturday, August 25th, 2018, as part of the 2nd annual Bradfest at the Arroyo Seco Golf Course. Other bands sharing the Bradfest bill are Twanguero, Rose's Pawn Shop, I See Hawks in LA, Abby & The Myth, and the Pasadena Playboys.