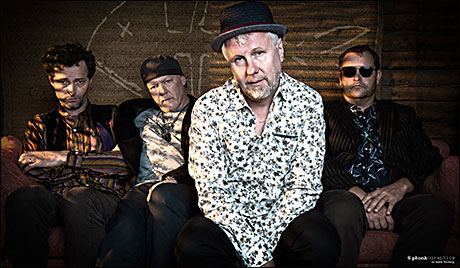 On their 2nd album, "Atoms", Bonefish delivers a genuine listening experience based in their totally unique sound and melodic songs. Bonefish formed 6 years ago by songwriter, singer and guitarist Bie Karlsson with merits from famous Swedish group Docenterna. With one leg in traditional rock music, the other in creative art rock, the group manages to create their own formula for music.
The new album "Atoms" contains a unique mix of songs, sometimes referring to forerunners like Talking Heads and Television, as well as British 70's pop music. All masterfully compounded by producer Max Lorenz. "Atoms" is recorded at the legendary Rockfield Studios in Wales, where top selling world acts have been recording since the mid 60's, among many others, Queen, Pixies and Robert Plant.
Singer, songwriter and guitarist Bie Karlsson have recorded and toured with bands like T-Shirts, Giant Steppers and Docenterna, and worked with high end producers, most notably Dennis "Blackbeard" Bovell, Anders "Henkan" Henriksson and Michael Ilbert. Matte Norberg, guitar, Rasmus Rasmusson, drums and Anders "Nylle" Thoor, bass and vocals, all have years of experience of touring and recording for the local Swedish music scene.
"Atoms" is produced by Max Lorentz who's long and extensive career as producer and musician includes cooperation with world class artists like Agnetha Fältskog and Mikael Rickfors.
Bonefish' eponymous debut was self released in 2013 and was followed by shows in Sweden, Belgium and the UK. In 2014 the follow up EP, "Time To Market", was released, and in 2015 the single "Jimmy!".
During the autumn of 2017 Bonefish embarks for a short tour in Sweden with gigs in Gävle, Karskoga, Stockholm, Halmstad and Malmö. For the spring of 2018 a European tour is planned with visits in Germany, Belgium and The Netherlands.