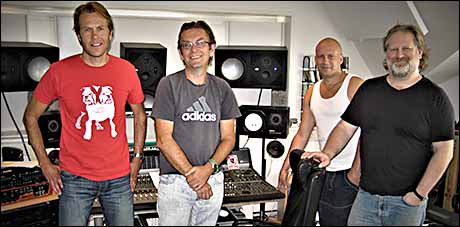 "Eye To Eye" is the brand new studio album by Swedish rocker Anders Bodin, a.k.a Bodinrocker. This is his 4th album. He is known for his straightforward rock, combining tasty guitar riffs with crystal clear melodies. This new album recorded at various places in Gothenburg has been co-produced by Anders Bodin and Lars Ekberg.
Along with Bodin, guitars and vocals, and Ekberg, keyboards, the performing musicians are Klas Anderhell, drums, and Stefan Deland, bass, who also are the rhythm section in Sven Ingvars, a classic Swedish band. There are also guest appearances by his nephew Gabriel Ekberg on guitar, Hasse Johnzon on slide guitar and mandolin and singer songwriter Mårten Lärka on backing vocals.
"Eye To Eye" is a diverse and dynamic album in the classic rock domain. Productionwise and musically this is probably the best Bodinrocker album so far. And like his previous albums, sense of melody can be seen as the key weapon.
Bodin´s interest in music started when growing up in the small village Hallen in Jämtland in the middle of Sweden. He started playing the guitar and writing songs at the age of 10 and has been writing songs ever since.
From his childhood there is one special historical family story that has always intrigued him and that now has become the theme of the album title and cover. The album title "Eye To Eye" and the album track "Brown Bear" are built upon the story about how Bodin´s great great grandfather came eye to eye with a brown bear out in the wild. The legend says that the man actually killed the bear with his bare hands. True or not, it sure is an extraordinary story.
The track "New Sweden" is another historical theme about Sweden's first and last colony in North America.
As one of the most experienced in the ambulance service in Gothenburg, Bodin uses the music as a catalyzer to clear his mind for what he has to deal with out in the field. "It´s a gift to help people in emergency need, but in the long run you`ll need some coping strategy to not being washed up. And for me, music and running works fine. Anders Bodin could also be seen in the Gothenburg ambulance service in the reality series "112 På Liv Och Död" that has been broadcast on Swedish TV4.
On September 20th, 2018, Bodinrocker will play live at Sticky Fingers in Gothenburg to celebrate the release of his new album. "Eye To Eye" will be on general sale on September 14th, 2018 as LP, CD, download and streaming.
As Bodin would say, "put Status Quo, Tom Petty, Neil Young and the bluesy years of Whitesnake in a mixer and press the button. There you have it!".