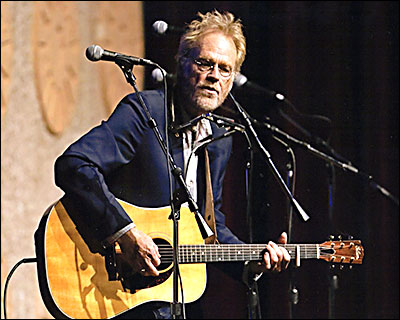 Bob Livingston's been everywhere, man. The stories roll out effortlessly, seamlessly, continually, and they're so wild and crazy you know they must be true. He was there in Austin when Jerry Jeff showed up from New York City. He was there in L.A. when Michael Murphey was searching for his 1st record deal. He's done solo gigs in Yemen, Pakistan, Africa, you name it, and traveled the world with Walker and Murphey and the Lost Gonzo Band. He was in Red River, New Mexico, when Ray Hubbard wrote "Up Against The Wall, Redneck Mother". And he draws on this whole journey for "Up The Flatland Stairs", which harkens back to his growing up in the ever unlikely but amazingly fertile musical breeding ground of Lubbock, Texas.
Bob includes nods to his old compadres Jerry Jeff Walker in "Shell Game", Gary P Nunn and the Lost Gonzo Band in"Public Domain" and "Caution To The Wind", and early influences like Uncle Walt's Band, with a previously unreleased Walter Hyatt gem , "Early Days". There are new co-writes with Bob's many stellar songwriting friends, like John Hadley in"A Few Things Right", Laurie Turner in "That's The Way Things Go", also featuring a brilliant duet vocal with Eliza Gilkyson, Susan Herndon, the whimsical "You Got My Goat", and a new, old co-write with Michael Martin Murphy in "It Just Might Be Your Lovin'", a song that Murphey had started decades ago, never finished and basically lost, until Bob resurrected it from his own archives and completed it. Fellow Lubbock native, playwright, poet, singer-songwriter and music folklorist Andy Wilkinson co-wrote the beautiful and delicate "Cowgirl's Lullaby" with Bob, also featuring a beautiful duet with rising vocal star Kelley Mickwee, formerly of the Trishas and currently touring with Shinyribs. Bob's new song "Can't Get Enough Of It" is a moving and poignant look back at it all, acknowledging the preciousness of these moments when seen through the lens of a life well lived.
All in all, "Up The Flatland Stairs" is a truly brilliant statement of someone who's pretty much seen it all, yet is still an active and vital artistic voice, still walking the path, still exploring, and still doing it all with a twinkle in his eye. The loving coproduction of Don Richmond and Howlin' Dog Records ranges from delicate acoustic to driving electric, from a spare and single thread to a tapestry of instruments weaving together, always seeking to give each song just what it wants. "Up the Flatland Stairs" is truly crafted to be listened to as an album, from start to finish, and we hope you can find time to take it in that way. We hope you enjoy the journey!