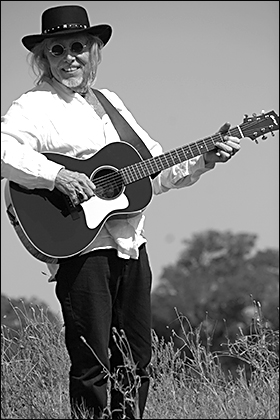 Celebrating his 50th year as a songwriter with over 3 000 songs to his credit, Bob Cheevers offers a 5 disc retrospective box set called "Fifty Years – A Semi Century Of Songwriting", featuring 83 songs covering his 1st half century of songwriting.
His early years growing up in Memphis gave him a taste for the r'n'b and blues flavor of the Mississippi Delta. After college, Bob headed for Los Angeles and left the place where he and Elvis were hometown boys.
25 years in the pop field resulted in a number of chart hits under his own name and the band he was part of called The Peppermint Trolly Company. One of their credits was singing the theme song to the TV sitcom "Love American Style".
The historical changes of the 60's played no small role in Bob's life which, during that time, also included representation by Neil Young's and Joni Mitchell's management team.
The power of change of that period began the life long journey of Bob discovering his musical and personal voices which in no time began to show up in his songwriting. A true artist emerged.
His LA Criterion Music publisher had an office in Nashville and suggested that Bob move there, because he was being pitched as a songwriter and an artist. Already an Emmy winning songwriter, Bob was invited to be a show opener on what was to be Johnny Cash's final tour after which Cash chose to record one of Bob's songs.
In 2009, after 16 years in the Nashville songwriting machine, Bob headed for Austin to concentrate on being 'the artist' in his own right. After only 3 years in Texas, Bob became the Texas Music Awards Singer Songwriter Of The Year.
His 10 commercial CD's offer a wealth of characters some of whom are real and others imagined. "Fifty Years", with its range of songs in jazz, rock, singer songwriter, folk and country genres, expand that wealth. Being a seasoned, journeyman performer, his many miles on the road have given him a fine tuned musical voice and endless stories to tell.
The spinning of his rootsy, blues flavored tales of life in a language of the heart provide Bob the roadmap for his journey. His Austin pal Ray Wylie Hubbard says, "Bob Cheevers is one cool scarecrow gypsy poet who writes and sings".