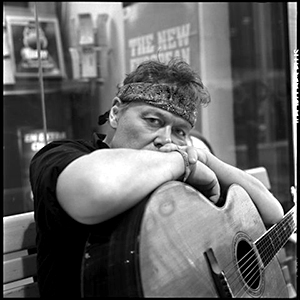 Congratulations... You have just acquired a photo album... "What?", is your thought, as you inspect the album in your hand to make sure it is the music CD with Bo Ahlbertz. Don't worry, it is. But the record is also a photoalbum of life, and Bo's photos are set to music, with lyrics and compositions that in a clear and unpretentious way gives us an insight into Bo Ahlbertz, the artist. It is a piece of art, and to borrow from clichés (after all life is full of them so let's be honest and use them) Bo does not paint, he takes snapshots of life events, he describes them, let's us know them, and encourages us to join, be it in sorrow, hope, or happiness.
There are tracks written a long time ago, tracks that are brand new, and tracks where he has collaborated with other song writers, in this album Bo shares them with us. The track "Been There, Done That" describes how, in adulthood, we have experienced so much and how this has influenced us. In the last track "We Ran All The Way Home" Bo describes the feeling of finding your way home, something that so many take for granted but is ultimately gained by few.
Bo musical journey began about 1975, which means he will soon be celebrating 40 years as a musical artist. From the music scene in Stockholm, Bo shortly made his way to Gotland together with the folk-band Patrask that played Swedish folk-pop with Irish influences. After Patrask became increasingly distant he continued to produce and write music solo, but always with the same accurate camera angle. The snapshots became more and more personal.
I was given the opportunity to work with Bo during the recording of the single "Annelie". This is where I understood that he has had a long life in music with the roots in folk. Bo dares, and succeeds, in making an album influenced with various styles, but he always manages to nail his songs be they inspired by Americana or Irish music.
On this trip Bo has taken not only himself and studio musicians, here are several guest artists from various genres, everyone with one thing in common, heart. It's not an All-Star band that Bo is offering, it is an All-Heart band. We see Gotländska Glimra next to Gunnar Järeld. Kruthof gives us tones from dobro and guitar. Bo himself provides guitar and of course his trademark; the bouzouki.
Bo takes these friends along on the trip and on the album, "No Retreat, No Surrender (Lazy Afternoon)", he manages to describe his reality and his experiences on 12 tracks, 12 snapshots, that take us on a journey and then leads us back home again. So take a seat and welcome aboard.
Sincerely yours,
Jakob Ringbom