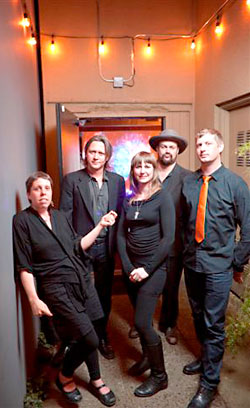 On September 18th, 2012, Sugar Hill Records will release 'A Tear In The Eye Is A Wound In The Heart', the 2nd album by Black Prairie, the exploratory, back-porch ensemble founded by the Decemberists' Chris Funk, Nate Query and Jenny Conlee.
Produced by Tucker Martine, 'Tear In The Eye…' is the follow up to 'Feast Of The Hunter's Moon', and the first Black Prairie album to primarily feature vocalist Annalisa Tornfelt. Written collaboratively by all band members, the album feels cinematic and familiar; Tornfelt's gentle, classic country-inspired singing is connected to the band's Baltic-Appalachian instrumentals by strange, orchestral interludes. The album is an evolution of the band's love of instrumental, Italian film score weirdness and the venerable, forgotten roots of American and Eastern European folk.
"I don't feel like there's any boundaries in this band at all", adds guitarist Jon Neufeld. "All my weird songs have finally found a home in this group".
Black Prairie was formed in 2008, in the living rooms of Portland's rich music scene, during downtime by the Decemberists' Chris, Nate, Jenny, who invited their friends Annalisa Tornfelt (vocals, fiddle) and guitarist Jon Neufeld. "At that time, I needed a shot in the arm" says Chris, who began spending more time with the dobro. "We're trying to keep the acoustic integrity of the acoustic aspect of it - but otherwise, it's no holds barred. With these five instruments, what can we do?".
Black Prairie has become Portland's beloved "house band," and is recording a series of collaborations with singers in their hometown, the first release of which being a 7" with James Mercer of the Shins and Sallie Ford.