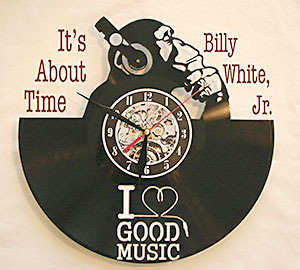 Billy White Jr titled his 2010 1st album, "Just Another Guitar Player From Texas", but he's much more than that. According to Vintage Guitar Magazines review of it he's probably, "the best guitar player you've never heard". That 1st record also covered a lot of musical ground including rock, r'n'b, country and acoustic singer songwriter in an effort to showcase the wide variety he has written and performed.
His 2nd album, 2012's "Just Another Sad Ol' Song" was a more focused pure classic country catalog featuring plenty of steel, fiddle, mandolin and dobro as well as lots of twangy guitar licks. With 9 originals and one cover, it took the listeners down a winding country road.
True to form, Billy's 3rd and latest album, "It's About Time", takes a wholly different approach. Described as classic rock and blues with a side of r'n'b, this one features 10 original songs and lots of rockin' guitar without a steel or fiddle in sight. From the Duane and Dickey riffs of the opening track, "The Music", to the slide swapping "Rock'N'Roll Fever", to the funky licks of the instrumental "Shenanigans", featuring legendary bassist Chuck Rainey, to the guitar saturated "Don't Talk About Me", it rocks out and clearly demonstrates his classic guitar influences, years of experience and wide range of songwriting skills. He sings all the vocals and wrote the horn arrangement too.
No one knows for sure what the next record will be, but you can count on one thing, it'll be different.
All of Billy's albums are produced via Appriaswatos.