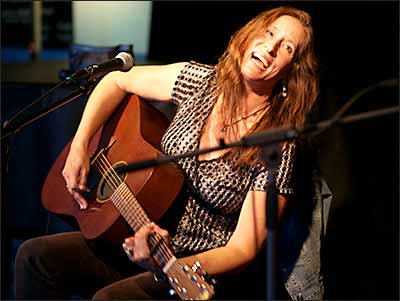 In late 2017, Beth Wimmer releases her 4th full-length album, "Bookmark".
"Bookmark", Wimmer's 1st new collection in 6 years, offers 9 original songs, and one fantasy fulfilled of covering the late David Bowie's "Starman". As usual, Wimmer changes up her styles and energies, and the tunes' various stories are playful, intelligent, revealing and hopeful. Sometimes dreamlike, sometimes presented by different characters seemingly residing within Wimmer, "Bookmark" burns with guitar based grooves, ambience, infectious rhythms, and Wimmer's mature vocal delivery.
"Bookmark" is co-produced by guitarist Billy Watts (Mojo Monkeys, Eric Burdon, Jennifer Warnes) together with Wimmer, and features lush, expert, storytelling guitar work from Watts, and the irresistible solid fun rhythm section of David Raven on drums (Mojo Monkeys, Keith Richards, Jim Lauderdale, Norah Jones) and Taras Prodaniuk on bass (Mojo Monkeys, Richard Thompson, Lucinda Williams).
The songs from "Bookmark" are additionally accented with Wimmer's acclaimed musical mates in Switzerland, singer Suzie Candell, bassist Rodrigo Aravena, and multi instrumentalist Dänu Wisler.
Catch Beth Wimmer live on tour in 2018, primarily in Switzerland, with tour dates in Austria, Germany, Italy, Holland and other European states also in the works.