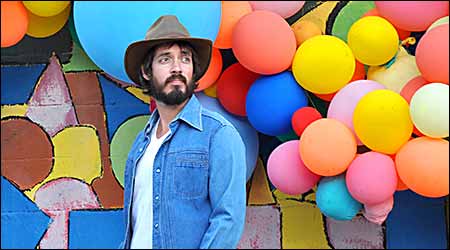 Ben Bostick is a South Carolina raised, Southern California based, outsider country songwriter, musician, and busker. His influences range from Waylon Jennings and Bruce Springsteen to Otis Redding and the Rolling Stones.
After leaving home for a decade of rambling and toiling at odd jobs, Bostick decided to try busking on the Santa Monica Pier, and found that he could make a living playing his original music. Ben saved his busking money and used it to record his debut EP, "My Country", in 2016. No Depression said, "he comes on like an unholy alliance of George Jones and Merle Haggard". "My Country was nominated for an Independent Music Award in the roots and country category.
His self titled debut album from 2017 takes on a more progressive country tone, recalling such artists as Jason Isbell and Sturgill Simpson, and showcases his versatility as a songwriter. "This eponymous album is so well written that it is to look into the heart of the divine, a true great", says Liverpool Sound & Vision.
"Hellfire", Bostick's sophomore release, is a collection of high energy songs written during his band's year long weekly residency at The Escondite in downtown Los Angeles. It was during this residency that Bostick solidified the lineup in his band and set out to write material to suit the players and the venue. Bostick describes the sound of the album as "music for driving at high speeds, moving heavy things, drinking and fighting".
"Hellfire" is set for release in the summer of 2018. Until then, you can find Ben at one of his many live shows around Southern California, DJ'ing at Shoo Shoo Baby, or you might even catch him busking with his one man band rig down on the Santa Monica Pier.