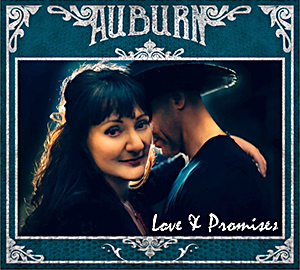 Americana music ensemble Auburn, featuring Liz Lenten, will be releasing their 5th album, "Love & Promises", on June 17th, 2016. The new album was mainly written in the mountains of eastern Crete last year, in a flurry of outpouring. As always with Liz Lenten's prolific songwriting, themes cover the usual range of reflections of emotions and situations, from love, loss, uncertainty and yearning to lucid dreaming, frustrating teenagers, imaginary lovers, and the sorry sad state of the world. Remarkably it's pretty upbeat mostly, actually, honest!
Says Liz, "its been another crazy year for me, with huge personal life changes, which left me realizing that you really need to focus on the here and now and live for the moment, not in a 'I could die tomorrow' kind of way, just that there is no point on dwelling on the past, and planning too far ahead in the future, you need to just focus on and enjoy the present, and realize that nothing is for ever. That's the 'Love & Promises' message anyway. I'm not saying it's the same for everyone of course, but that's how it is for me, hopefully there are other people out there that this will resonate with."
As with Auburn's previous releases, the band's new album was recorded once again in Nashville. Says Liz, "Nashville is one of the most wonderful cities on earth to me, buzzing with music and creativity. My fantastic producer, Thomm Jutz, who totally brings my ideas to life is there, so I would go wherever he was. And the musicians are amazing, all so incredibly talented and sensitive, and just lovely people to be around. I have done 3 albums there and will be going back next year, hopefully, to record a duo album with Chet O'Keefe. I just feel at home there".
With last year's release of Auburn's critically acclaimed album, "Mixed Feelings", 2015 proved to be a hugely exciting year for the band, who reformed in 2011 after almost a decade apart. The band embarked on a major UK tour again supporting the legendary Jefferson Starship and then later in the year with Martin Carthy & Dave Swarbrick, captivating audiences around the country with their unique blend of americana, blues and roots music.