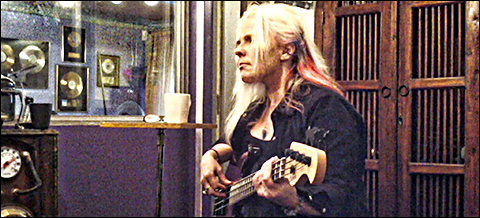 Astrid Young (Neil Young) and Victor DeLorenzo (Violent Femmes) have produced an epiphonic installment to what may be best described as 'Psychedelic Acid Folk', from song to song, this insidiously catchy album straddles many genres, but taken from start to finish it's a destination, "One Night At Giant Rock" is a night of nights.
Astrid Young's discography as a backup singer and side person includes a roster of heavyweights across more than 30 albums, most illustriously the handful of Neil Young albums she lends her voice to ('Harvest Moon', 'Unplugged', 'Are You Passionate'). Her own work has spanned techno, metal, blues and string-quartet-accompanied-piano material. This record touches on all those things, and tells stories of karmic encounters, with a southwestern desert backdrop that lends both a mystical and extraterrestrial aura to the music.
This is the first album Astrid has released since 2003's "Matinee", and was a long time in the making due to Astrid's severe hearing loss which resulted in an inability to hear subtleties in her mixes anymore... enter Victor DeLorenzo (an original Violent Femme), who signed on to help produce and finish the record, but along the way became an enthusiastic member of the band. The result has been thrilling ears far and wide, while live shows have been pulling in new fans at every outing. Astrid's signature is an embattled 12-string acoustic guitar, which she plays rather un-delicately - a perfect foil to her voice, which can be at once sweet, sultry, snarly and searing (her live solo shows have been compared to 'Alice In Chains Unplugged'), and then sometimes she finds a 5-string fretless bass in her hands, all the better to deliver a good thump.
"Astrid Young's new record is quite the playground of new and fantastic musical invention that calms the soul, itches the mind and fires the imagination! This collection will help to answer the question of where music is headed in 2015 and beyond!"
So says DeLorenzo, who played on much of the album, as did Ray Farrugia (Junkhouse/Lee Harvey Osmond), Eric McFadden (P.Funk/Eric Burdon), Joe Gore (Tracy Chapman/PJ Harvey), Jane Wiedlin (the GoGo's), Dawn Richardson (4 Non-Blondes) and others.
Think early David Bowie, think a little Black Sabbath, maybe some Kate Bush, even Karen Carpenter (on an LSD trip). It's all in there, with a roller-coaster kind of flow that leaves you wanting what's next, as there is a musical surprize around every turn...