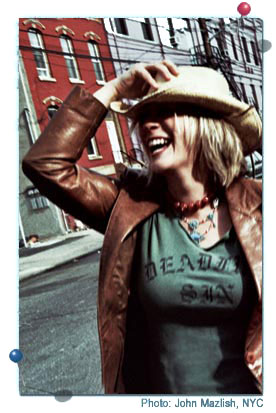 "I kind of spilled blood all over this project," Amy Speace says of her new album 'The Killer In Me', which marks a quantum creative leap from the artist's 2006 breakthrough effort 'Songs For Bright Street'. While that release won her widespread critical acclaim and a loyal international fan base, 'The Killer In Me' finds the New York-based singer/songwriter forging into deeper, darker lyrical and musical terrain, borne largely out of her self-imposed isolation during the final separation of her long marriage.
"This is the record that I needed to make," Speace states. "In many ways, it was the hardest thing I've ever done. And in some ways, it was the easiest. Writing the songs was emotionally difficult, deep and intense - it was kind of an exorcism. But in the end, the songs flowed pretty quickly. You write the things that you're afraid to say out loud."
'The Killer In Me's' 12 soul-baring new songs maintain the effortless melodic appeal of her prior work, while delivering complex emotional insights that give the album startling intimacy and resonance. "The Killer In Me" chronicles a strangled co-dependent relationship, while "Haven't Learned A Thing" offers absolution for the continuing struggle in the attempt to connect with another and never getting it completely right. "This Love" speaks to the hope and uncertainty that comes with the onset of a new relationship. The album covers more terrain than romantic relationships, closing with "Piece By Piece," written as a prayer to her father, wishing him peace and love after the death of his brother.
Most of the album was written in the rural isolation of a rented cabin in the Catskills after her final separation from her husband. "It was just me, some books, my journals, my guitar and the songs, with no phone and no TV," she explains. "I spent a lot of time reading and hiking and chopping wood for the stove, and wrote the songs that form the emotional center of this album."
"The situation," she continues, "forced me to sit with a lot of silence, fear and confusion and make a kind of peace with them by writing songs to keep from going crazy. That's when the album started making sense to me and became a whole different thing. Something shifted when I realized what was going on in the world outside mirrored what was going on inside of me, and I wanted to write songs that bridged that divide."
Speace recorded 'The Killer In Me' with her longtime producer and lead guitarist James Mastro, of Bongos/Health and Happiness Show fame, and her longstanding live band the Tearjerks, comprised of guitarist Rich Feridun, bassist Matt Lindsey and drummer Jagoda. The sessions took place at alt-pop legend Mitch Easter's Fidelitorium studio in North Carolina, with Easter lending his talents as engineer. Also on board is English rock icon Ian Hunter, who adds his distinctive vocals to a pair of songs.
Born in Baltimore and raised in small-town Pennsylvania, Speace initially had her sights set on a career as a playwright/actor, graduating from Amherst College and toured with the prestigious National Shakespeare Company. After moving to New York, she had roles in various off-Broadway productions and independent films, ran her own theater company, and taught Shakespeare in the New York City school system. After teaching herself to play guitar, she began setting her poetry to music, and quickly found songwriting to be the most creatively fulfilling thing she'd ever done. She soon began performing as half of the female duo Edith O. Speace made her solo debut with the 2002 release 'Fable', recorded with $5000 donated by fans and released on her own Twangirl label. Giving up her hard-won acting career to become a full-time musician, she hopped into her car and hit the road, booking herself into every club, café and college that would have her. After catching a performance at the SXSW music-industry festival, Judy Collins' manager brought Speace to the attention of Collins, who signed her to her Wildflower label. Her debut for the label, 'Songs For Bright Street', received warm praise from critics, including those in Europe, which has enabled her to build a strong touring base there.
Reflecting on making 'The Killer In Me', Speace concludes, "I got into music with my eyes wide open, having already been doing something else. I knew that the kind of music I wanted to make might be outside the realm of what's on the radio, but I didn't care. I just wanted to make something that's real. I'm as proud of this album as I am anything I've ever done."