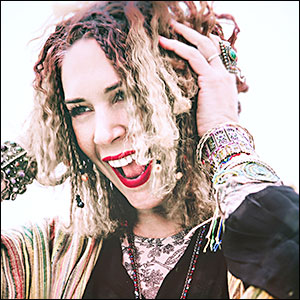 Singer songwriter Amanda Abizaid is releasing a new EP in support of www.helpphilippineschools.org, a non-profit organization that helps children get the best education possible through the betterment of existing schools, working from the inside out. "Walking In Twos", featuring the legendary Stephen Stills, is a 7 track EP including 2 diverse mixes of the titular song, which was inspired by Amanda's experiences with the Aeta Filipino children. The EP also features other original songs and will be released in Europe in September 2017. The project's goal is to create a self sufficient revenue stream using proceeds from the song's downloads and streams to buy school supplies for the Aeta children of the Philippines. By making state of the art teaching technology available, while at the same time seeing to the need for proper food and clothing, Help Philippine Schools insures a prosperous, personal and professional future for young minds in the country.
Amanda is a professional singer songwriter living in Los Angeles, CA, and she is the cultural ambassador to the organization. Their overall mission is to supply rural government elementary schools throughout the Philippines, beginning on Mindanao, with modern educational equipment, food and clothing. They do this by dedicating profits generated through AEGIS, and from donations by private individuals, businesses and/or institutional entities. Amanda describes her music as 'neo soul meets world'. A gifted pianist, guitarist and flautist, Amanda Abizaid was born in Beirut, Lebanon, to an American mother and Lebanese father. Upon relocating to Los Angeles in the 1990's, Amanda immediately began working with some of the best musicians on the scene. She gained major notoriety when she lent her voice to "A Place In Time", the haunting theme song from Paramount's TV series The 4400, which premiered in 2004. Amanda's 2010 CD release "This Life" garnered rave reviews from fans and music press from around the world.
The song "Walking In Twos" was inspired by Amanda Abizaid's experiences with the Aeta Filipino children in Haduan Village when she was abroad in 2016. "I shook hands with every child and they told me their names", Amanda recalls. "This is how the magic of this song began". The village of Haduan is situated in the Southeastern foothills of the Pinatubo Volcano Range, across the Secovia Lahar River Basin. Visiting the village requires walking a few miles through rugged dirt paths, crossing a wide river, and a tropical wet dirt hike through the mountains. "When I arrived at their village", says Amanda, "I entered their little stone classroom and soon began singing to my acoustic guitar instrumental of 'Walking In Twos', walking in between the tables and chairs. They smiled and their eyes lit up. In their indigenous language, they yelled out how much they loved the melody, clapping joyfully and asked what it meant. That's when I knew I was on to something special".
Amanda made a strong impression on the children, and on her way home, a barefoot little girl named Lilibeth walked by her side. "Together we hiked down the mountain, crossing the unstable wooden roped bridge high over the river to the other side. We walked until we reached the paved road, the main entry of their village to civilization". The children also made a strong impression on Amanda, and when it came time to record the song, she had them sing in their native language on the chorus. "For the Aeta to agree to perform on my song 'Walking In Twos' is a first time event for them, and for the world to hear these children's voices".
Amanda Abizaid wrote and produced the "Walking In Twos" EP, and sings and plays flute and piano, as well. Stephen Stills is a legendary singer songwriter and multi instrumentalist best known for his work with Buffalo Springfield and Crosby Stills Nash & Young. He plays guitar on the title track. "To have Stephen Stills performance on the project is an amazing honor", says Amanda, "and together with the support of the Aeta children this project is a wonderful opportunity to share and help them through music".
The new "Walking In Twos" EP features an electronica remix of Amanda's original title track produced by Lindsay Gillis, a Los Angeles based musician and songwriter, who has worked with Ron Fair, Dennis Dreith and Steve Deutsch. The "Walking In Twos" EP also includes 5 original songs, "One Love", Amanda's most recent acoustic reggae rock single, featuring bilingual lyrics, "Promises Of Love", a trip hop world beat track featuring Egyptian oud player Ahmed Kamal, both co-produced with Raj Ramayya and Théo Nogueira, "Set It Up", a trip hop track featuring world flute melodies, "Lion's Den", an acoustic rock track with a touch of electronica, and "Release Me", an ambient electronic bilingual track co-produced with Mixman Shawn.
Other featured musicians on this work are bassist Mike Mennell and acoustic guitarist Lindsay Gillis. Mike Mennell is a bassist and singer in Southern California who has been friends with and worked alongside Amanda for the past 16 years. Lindsay Gillis is a Los Angeles based musician and songwriter, survivor of numerous Southern California gigs and sessions, and collaborates with Amanda on the songwriting project "Someday Girl".
Other contributions of note include Musicians Institute students performing drums under Stewart Jean, a drummer and educator based in Los Angeles, CA, currently the program chair for drums at Musicians Institute in Hollywood. Also featured are local Buddhist children and the Aeta children from Village of Haduan, Philippines, singing in their native language on the chorus, and Mark Stephen Weitz from 60's legends Strawberry Alarm Clock, performing Wurlitzer on the track. Bill Dasheill was the engineer.