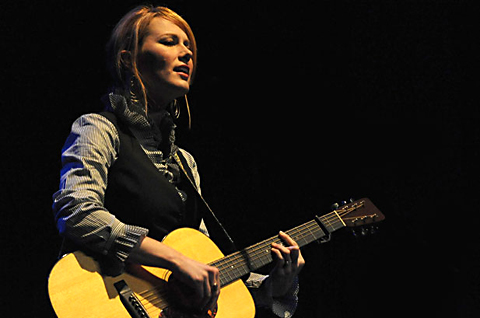 Allison Moorer is set to release her Ryko debut, 'Crows', on February 10, 2010. Produced by R.S. Field (Buddy Guy, John Mayall) at the House of David Studio in Nashville, TN, the 13-track album is a refined and lyrically honest collection of songs that is a marked stylistic departure from her previous work. 'Crows' is the anticipated follow up to her critically acclaimed 2008 album, 'Mockingbird', which was a celebration of songs composed by a stunning cast of female songwriters including Nina Simone, Patti Smith, Cat Power, her sister Shelby Lynne, and more. It also follows Moorer's first Grammy Award Nomination for the song "Days Aren't Long Enough," a composition she co-wrote with her husband, Steve Earle, for his Grammy Award Winning 2007 album 'Washington Square Serenade'.
Speaking with Billboard Magazine regarding 'Crows', Moorer stated "I really just set myself free and just threw all the rules out the window." Regarding the album's title, Moorer offered "We have crows in the yard at our place up in Woodstock. I am a little obsessed with birds, and have been told that they are indeed our messengers from the other side. So I decided that instead of letting the crows make me uneasy, I would start to consider them as friendlies, and that they were actually bringing me a message of comfort."
Ruby Marchand, head of A&R for Ryko, stated "Ryko is enormously proud to welcome Allison Moorer to our family of artists. Allison's extraordinarily evocative songs and vocal style capture her unique signature in the singer/songwriter community. With the February 2010 release of 'Crows', Ryko celebrates the beginning of a worldwide relationship with Allison through an album of astonishing breadth and scope."
Moorer's 1998 song, "A Soft Place To Fall," was included on the soundtrack to the feature film 'The Horse Whisperer', which led to an appearance in the film itself, as well as an Academy Award nomination for Best Original Song. The opportunity gained her worldwide attention and set the stage for her career. Since, Moorer has been featured on releases by Joan Baez, Kid Rock, Chieftains, and Los Straitjackets. She was seen in 2008 starring in 'Rebel Voices', a play based on Howard Zinn and Anthony Arnove's best-selling book Voices of a People's History of the United States. The play combated hopelessness by igniting the forces responsible for arousing change and celebrating the indomitable human spirit. On December 13th, 2009, Moorer will be seen in 'The People Speak', a beautiful and moving film inspired by A People's History of the United States, and Voices of A People's History of the United States. The film, presented by The History Channel, also features Bob Dylan, Morgan Freeman, Bruce Springsteen, Danny Glover, Matt Damon, John Legend, Rosario Dawson, Josh Brolin, Benjamin Bratt and more.
Check out the brand new video of "The Broken Girl" right here.