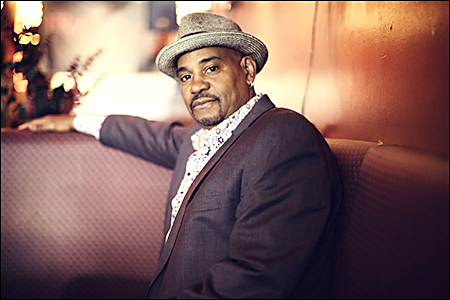 Ever since he burst on the jazz scene in the latter part of the twentieth century, the Brooklyn-born, Harlem-based Allan Harris has reigned supreme as one of the most accomplished singers of his generation. Aptly described by the Miami Herald as an artist blessed with, "the warmth of Tony Bennett, the bite and rhythmic sense of Sinatra, and the sly elegance of Nat 'King' Cole," the aural evidence of Harris' moving and magisterial artistry can be heard on his ten recordings as a leader (on which he also showcases his talents as a guitarist and composer), as well as his critically-acclaimed concerts around the world, and his numerous awards.
Harris' wonderful new album "Black Bar Jukebox", produced by award-winning producer Brian Bacchus (Norah Jones, Gregory Porter), is his most compelling and comprehensive recording to date. It features thirteen selections that include several popular standards and originals penned by Harris. His soulful, silken bari-tenor voice dances and trances throughout an eclectic spectrum of moods and grooves; from the moving, mid-tempo, 4/4 swing of "You Make Me Feel So Young", "A Little Bit Scared" and the Count Basie-ish, "Jumping At The Woodside" vibe of 'I Got The Blues", to the Ahmad Jamal, "Poinciana"-pulsed "Miami", the Latin-tinged "Catfish", "Take Me To The Pilot", which can be compared to Les McCann's soulful grooves, and an ebullient cover of pop singer John Mayer's "Daughters", which features Harris' spare and syncopated guitar strains.
"I'm a storyteller through the genre of jazz", concludes Harris.