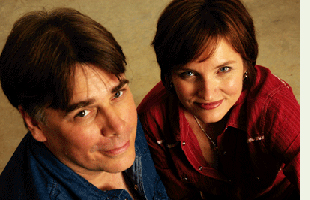 MoonHouse Records is proud to announce the release of "Albert & Gage – Dakota Lullaby (The Songs of Tom Peterson)". This is the sixth CD for the Austin, Texas duo since teaming up in 1997. Christine Albert and Chris Gage will be continuing their active performing schedule throughout the summer to support the release.
Although Albert and Gage are prolific songwriters, for this project they drew entirely from an extensive catalog of undiscovered gems written by Gage's old friend from Sioux Falls, South Dakota – Tom Peterson. Virtually unknown outside of South Dakota (although he is somewhat of a legend among his peers in the Midwest), Peterson lived for awhile in Nashville but his songs never found the wider audience they deserve. On the liner notes Gage says "I've been singing Tom Peterson songs on stages around the world since 1975, but I had to hear 10,000 other songs before I realized just how great Tom's are." And Christine mentions that listening to old recordings of Tom's music made her feel like she had "just struck gold in the Black Hills". You can hear the affection and reverence that Albert and Gage have for the songs and for Mr. Peterson himself. Tom Peterson makes his home in Sioux Falls and works in production for a local television news program.
Gage's multi-instrumental chops are well known through his work as a producer and a sideman (Roy Clark, Jimmie Dale Gilmore, Jerry Jeff Walker) and he guides a world class band through classic Americana style arrangements on Dakota Lullaby. He shines on guitars, piano, organ, and dobro and that distinctive Albert and Gage harmony is prominently featured throughout. The duo take turns singing lead and you can almost hear the prairie wind as they wrap their voices around the ballads, the blues, the country, swing and bluegrass that grace this album. The music is pure Americana and Albert and Gage deliver it with the integrity and care that these great songs deserve.
Austin's studio A-list, Paul Pearcy, David Carroll and Glenn Fukunaga, make up the rhythm section and are joined here by other hot Austin players - Lloyd Maines on pedal steel, John Mills on saxophone and Michael Austin on clarinet. Chris and Christine took advantage of borderless digital technology and added Canadian Mike Stevens on harmonica and South Dakotans Kenny Putnam on fiddle and Boyd Bristow on harmony vocals.