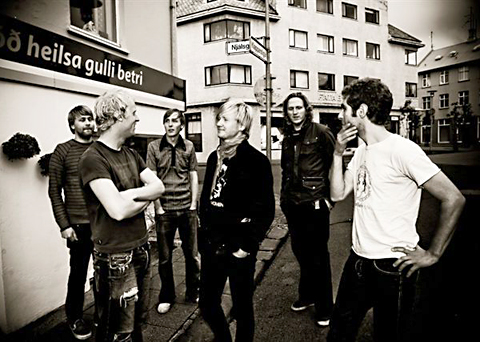 Árstíðir is a vocal-based indie band from Reykjavík with a sound unique to the Icelandic music scene. All six members are distinguished players known from various bands in the Reykjavík soundscape. Over the three years since Árstíðir's formation the band has released two records praised by trendsetting music critics, had two number-one hits on Icelandic radio, made several TV appearances in Iceland, Sweden, Russia and the Czech Republic, and played sold out venues all over Europe.
Aside from their trademark vocal harmonies, it is Árstíðir's instrumentation that set them apart, effusing a warm tide of resonant acoustic and baritone guitars, virtuosic piano, and melismatic strings. The result is an unusually wide sound spectrum, further emphasized by the impressive vocal range of all six members. Consequently, Árstíðir's music is a rare composition of the clear-cut and the complex. Their songs are easy to fall in love with yet mixed with diverse influences such as progressive rock, indie, classical music, and Icelandic folk music.
Árstíðir was formed in Reykjavík in the summer of 2008 by Daníel Auðunsson, Gunnar Már Jakobsson and Ragnar Ólafsson. After four weeks Árstíðir got their first break supporting the Icelandic pop giant 200,000 Naglbítar on the main stage of Reykjavík Culture Night. During the fall of 2008, Árstíðir continued to support 200,000 Naglbítar at a series of concerts and was joined by its fourth member, renowned cellist and sought-after session player Hallgrímur Jónas Jensson. Árstíðir also recorded their first single 'Sunday Morning' and the song became a number-one hit on Icelandic National Radio. In December Árstíðir's concert at the historic Fríkirkjan church in Reykjavík was recorded and released as an EP, 'Live At Fríkirkjan', on Árstíðir's own label Nivalis. It was mixed by multi-instrumentalist and producer Ólafur Arnalds, a friend of Árstíðir who has continued to collaborate with the band on their most recent album.
In 2009 Árstíðir snowballed into a six-piece when two more distinguished musicians joined: piano prodigy Jón Elísson and virtuoso violinist Karl Aldinsteinn Pestka. Following the release of their eponymous debut album in June, Árstíðir embarked upon a lengthy tour of Iceland and played several festivals, while the single 'Með Hallandi Höfði' became another number-one radio hit. The fall brought more high-profile concerts, such as playing the main stage of Iceland Airwaves, which generated considerable international media attention.
During 2010 Árstíðir's debut album was officially released in Sweden by Adore Music/Border and acquired international distribution through Norwegian-based Phonofile/Artspages. In the summer and fall, Árstíðir toured Scandinavia and Russia and were met by sold-out venues, local fan clubs, and high praise by both audience and media.
Árstíðir has broadened their musical direction in 2011, commencing work on their second album 'Svefns Og Vöku Skil'. The album was recorded in June at the legendary Icelandic studio Hljóðriti with Ólafur Arnalds as producer. Since July, Árstíðir have toured in Germany, the Czech Republic, Austria, Bulgaria and Russia, representing Iceland's largest foray into the Russian Federation to date.